Canton Fair Design Awards – CF Award to Shaanxi Decor Imp. & Exp. Co., Ltd.
sxdecor
The annual Canton Fair Export Commodities Design Awards (CF Awards) came to an end on 6th Nov, 2020. With a total of 5 products shortlisted, Shaanxi Decor was very honored to win a silver award for Cork Globe and a bronze award for Paper Globe finally. It was the only enterprise in Shaanxi Province and even in the northwest region to win the award, which is the best encouragement for Shaanxi Decor to persevere in research and innovation all the time and keep endeavoring to be one of the best globe manufacturers & scratch map manufacturers.
China Export Commodities Fair (hereinafter referred to as Canton Fair) is held in Guangzhou in spring and autumn every year. It is a comprehensive international trade event with the longest history, the highest level, the largest scale, the most complete commodities and the largest number of purchasers in China so far. It is known as "China's First Exhibition", up to 25,642 enterprises participated in the 126th Canton Fair before the epidemic.
In order to push forward the transformation of Chinese foreign trade development mode and continuously promote enterprises to improve their research and innovation capability, China has held selection activity of CF Awards once a year since 2013. It aims to select Chinese export products with outstanding design value and guide Chinese export enterprises to take the road of innovation and development.
932 enterprises participated in the evaluation in the 2020 CF Awards with total of 1,966 products; the number of enterprises and exhibits both reached a new high. After qualification audit, preliminary evaluation and other procedures, 13 world-renowned design experts, inspection and testing experts held a final review on the 274 enterprises and 692 products that were shortlisted. Finally, 131 products of 91 enterprises were honored respectively the Supreme Gold Award, Gold Award, Silver Award and Copper Award. It was fortunate for Shaanxi Décor to win two awards for two items, Cork Globe for Pushpins and Paper Folding Globe for Scratch off which is rare among the award-winning enterprises.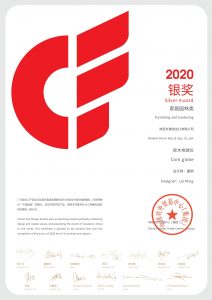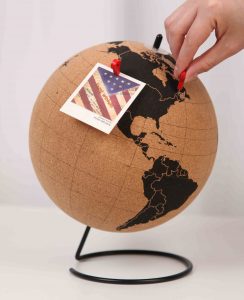 https://cief.cantonfair.org.cn/en/cf/index.aspx
Silver Award:Cork Globe for Pushpins
Shaanxi Decor Imp. and Exp. Co., Ltd. has been actively carrying out product innovation and design. Numerous products have domestic and foreign copyrights and patents, especially the map and globe series developed by our company and authoritative institutions. In recent years, 86 products designed successively have all passed the examination and approval of the Ministry of Natural Resources and obtained the relevant national audit numbers, laying a solid foundation for the continuous improvement of the company's export volume.
The award-winning cork globe and paper globe with novel materials and unique functions have been unanimously recognized by judges from 13 countries and regions. Expert judges believe that our globes work well and environmentally friendly with cork materials applied to it. The scratch feature of the origami globe is unique, making learning fun. The two designs, of which Shaanxi Décor owns EU patents, are also our knock-out products. In 2020, it was estimated that the global sales volume has exceeded 200,000.
Shaanxi Décor has continued to maintain export growth in the unfavorable situation of the global epidemic this year, and at the same time opened up the domestic market, and jointly developed Chinese interactive cognitive maps with domestic authoritative institutions and produced in mass, all thanks to our uniquely designed products.
The core value of Shaanxi Decor is the construction of independent intellectual property rights, and it is also the core competitiveness of creating our own brands at home and abroad.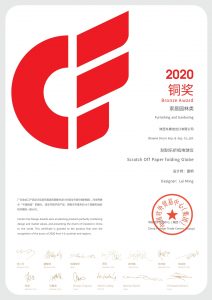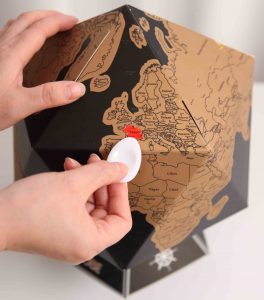 Bronze Award: Paper Folding Globe for Scratch Off
If you don't accumulate steps, you can't reach thousands of miles. An inferior horse runs for ten days same distance as that a fine horse runs for one day because of his keeping going. Shaanxi Decor Imp. and Exp. Co., Ltd. has been committing to the developing and producing of multi-functional interactive family cognition products as a professional globes & scratch maps manufacturer. Our vision is "Enhancing people to people communications & intriguing people and nature interactions." Shaanxi Decor will make continuous efforts to develop more and more products and introduce them to the global market!