Patent and Copyright
sxdecor
Patent and Copyright
After 16 year experiences in designing and manufacturing Memo Boards, Maps and Globes, Shaanxi Decor has developed to a leading company on creating multifunctional and interactive home products in China. We normally develop hundreds of new designs per year which divided into two season for Spring Canton Fair and Autumn Canton Fair.
In order to protect our products and improve our competitiveness, we always pay attention to protect our intellectual property rights. We have obtained EU appearance patent, domestic utility model patent and appearance patent for many popular items.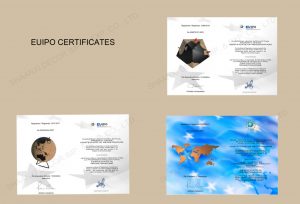 Some of EU Appearance Patents
In addition to patented products, we have applied for copyright for our own printing designs, which would officially protect our interests and ensure clients'sales.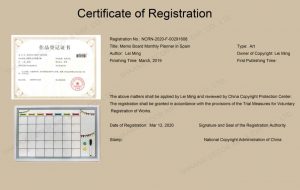 One out of our 30 copyrights
Nowadays, maps and globes are the our most popular products because we innovatively combine the knowledge of earth and map together with function of coloring and scratching off. To ensure the correct projection of each item, we cooperated with relevant organizations to work on every design to make sure all our products could pass the map audit by authority. Up to now, we have obtained more than 60 national serial numbers which are essential for exporting maps and globes in China. Therefore, it would be correct and safe to purchase these kind of products from Shaanxi Décor.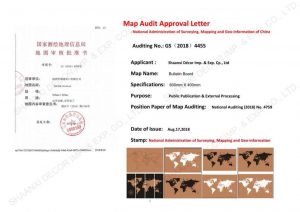 One out of our 60 map audits
Our attention to the patents and copyrights has been not only protect our market, but also benefit our clients' sales. Take our maps and globes as an example, in the process of designing, sampling and auditing, we check every level to ensure that there is no copyright involved. Therefore, when they are exported, there would be no problem in the customs inspection, the clients clearance and final sales.
With a strong designing and standard sampling ability, we have been actively cooperating with many clients to develop new items for them. We always respect clients'designs and protect their benefits. That is why they keep buying from us by developing new items every season. We guarantee never to show or sell clients'designs to any thirty party without their permission.
All in all, we will keep our principle of protecting intellectual property rights and respecting clients'benefits. We hope our products will keep selling well in the market and our cooperation with all the valued clients will keep improving constantly.
For more information on related patents, copyrights and map serial numbers, please contact the following persons:
Contact person:  Mr. Liu Wei
Mail: service@decor-levic.com
Telephone: 0086-29-62221101-809